Cristina Pato: Lecture + Performance
December 8, 2018 12:30 PM – 2:30 PM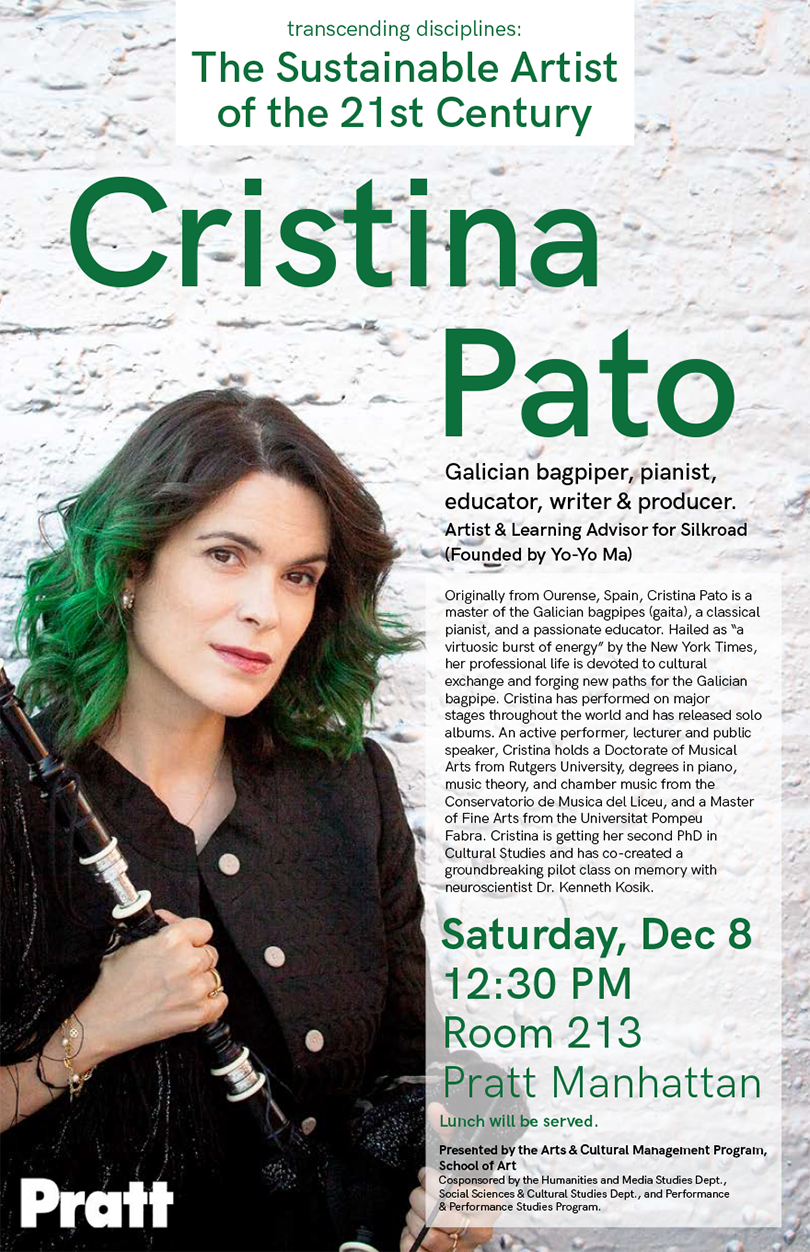 Presented by Arts & Cultural Management Program | School of Art
Cosponsored by: Humanities & Media Studies Department, Performance & Performance Studies Program, and Social Science & Cultural Studies Department
Lecture "Transcending Disciplines: The Sustainable Artist of the 21st Century"
In this lecture, Cristina Pato shares her artistic journey, forging a multifaceted career as an internationally acclaimed Galician bagpiper master, classical pianist, and passionate educator. Without a precedent to follow, and in a world where "nobody needs a bagpiper," Cristina charted her own path to become an independent artist and became passionate about exploring the role of the arts in other contexts, especially education. In this class, Cristina will share how she has made herself relevant to other disciplines and, in doing so, built a sustainable career. Cristina will also underscore how her multiple identities—from businesswoman to performer, teacher to cultural citizen—are a platform to probe social questions raised by the intersection of classical and folkloric music.
About Cristina Pato
Cristina Pato is a master of the Galician bagpipes (gaita), a classical pianist, and a passionate educator. Hailed as "a virtuosic burst of energy" by the New York Times, her professional life is devoted to cultural exchange and forging new paths for the Galician bagpipe. Cristina has performed on major stages throughout the world and has released and produced six solo gaita albums and two solo piano recordings, and collaborated on more than 40 albums as a guest artist.
Education is a critical part of Cristina's personal and professional life. She serves as Learning Advisor for Silkroad (founded by Yo-Yo Ma), has been an artist-in-residence at a number of universities, including Harvard and the University of California, Santa Barbara, where she develops interdisciplinary learning projects on the role of arts in society. She is the founder of the multidisciplinary Galician Connection Festival, and writes a weekly column for the Spanish newspaper, La Voz de Galicia.
An active performer, lecturer, and public speaker, Cristina holds a Doctorate of Musical Arts from Rutgers University, degrees in piano, music theory, and chamber music from the Conservatorio de Musica del Liceu, and a Master of Fine Arts from the Universitat Pompeu Fabra. Cristina is getting her second PhD in Cultural Studies and has co-created a groundbreaking pilot class on Memory with neuroscientist Dr. Kenneth Kosik.
---
Lunch will be served.