Confronting the Carceral State in Planning
October 1, 2020 8:00 PM – 10:00 PM
Online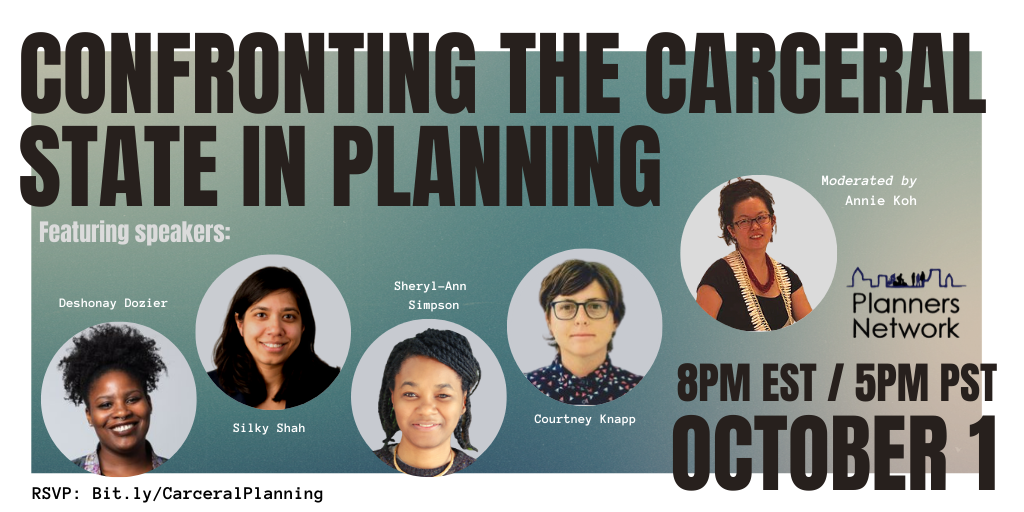 Confronting the Carceral State in Planning
Thursday October 1, 2020
5:00pm Pacific Time / 8:00pm Eastern Time
Free and open to the public.
RSVP for the event link at http://bit.ly/CarceralPlanning
Hosted by Planners Network, this panel discussion seeks to unpack how planning is implicated in current forms of carceral control — prisons and migrant detention centers — and explore the prospects for decarceration and abolition.
Panelists (in alphabetical order by last name):
Deshonay Dozier
Courtney Knapp
Silky Shah
Sheryl-Ann Simpson
Moderator: Annie Koh
Deshonay Dozier: Dr. Deshonay Dozier is writing a book on how poor people abolish the penal organization of their lives by envisioning and planning for a better Los Angeles. She is Assistant Professor of Human Geography at Cal State Long Beach and is a member of the Progressive City editorial collective.
Courtney Knapp: Courtney Knapp is a participatory action researcher whose work focuses on the intersection of urban history, community controlled planning and development, and socio-spatial liberation and justice—including decarceration. She teaches at Pratt Institute, and is writing a book about the politics of urban development and racial justice in Richmond, Virginia. Her 1st book Constructing the Dynamo of Dixie: Race, Urban Planning, and Cosmopolitanism in Chattanooga, Tennessee, won the 2019 Paul Davidoff Book Award.
Silky Shah: Silky Shah is the Executive Director of Detention Watch Network, a national coalition building power to abolish immigration detention in the US. She has worked as an organizer on issues related to immigration detention, mass incarceration, and racial and migrant justice for over 15 years. She is the author of the article "Immigration Policy and Planning in the Era of Mass Incarceration."
Sheryl-Ann Simpson: Sheryl-Ann Simpson is Assistant Professor of Geography and Environmental Studies at Carleton University. Her research and teaching focus on the relationship between the state and the everyday. She is the co-editor of the Journal of Planning Education and Research special issue on Planning Beyond Mass Incarceration (June 2020).
Annie Koh: Annette Koh teaches urban planning at Cal Poly Pomona with a focus on public participation and youth engagement. She is a contributor to ProgressiveCity.net and the book Transformative Planning: Radical Alternatives to Neoliberal Urbanism published by Black Rose Books in 2019.