Beauty and Ethics: The Art of Sustainability
April 11, 2019 6:30 PM – 8:00 PM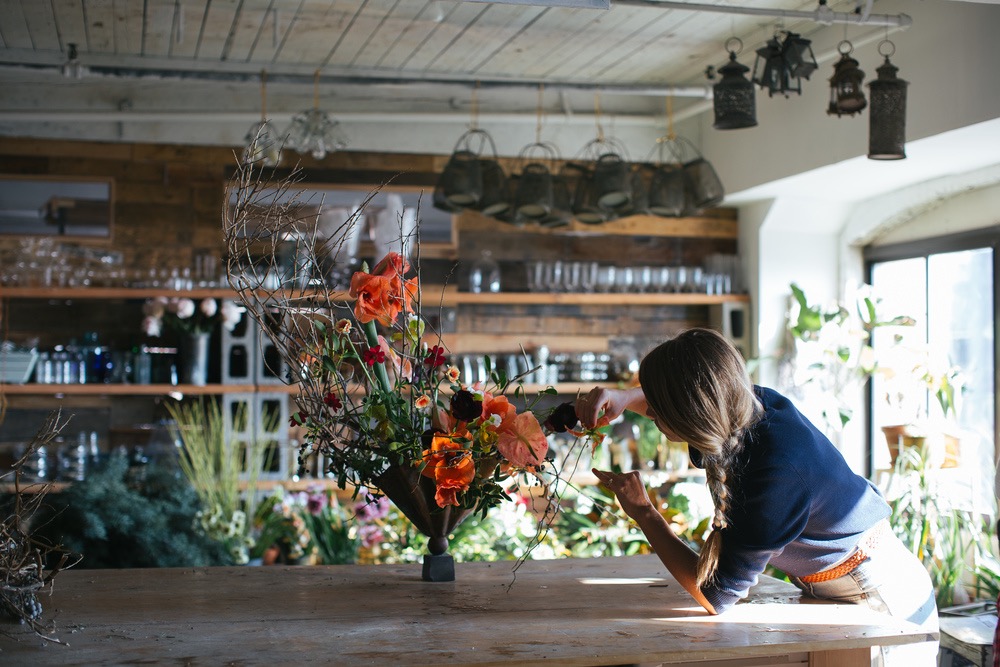 Pratt Institute and FlowerSchool New York partner to present an event focused on the topic of sustainable design practices.
Join master floral designers, Shane Connelly and Emily Thompson, environmentalist/sustainable landscape guru Eric T. Fleisher, and Andrea Filippone, a celebrated landscape architect and interior designer in a discussion of sustainable design practices across disciplines. Clinton Smith, former Editor in Chief at Veranda will moderate the program.
About the speakers:
Master Florist Shane Connolly has held a deep respect for nature since he was a boy growing up in Northern Ireland. He established Shane Connolly & Co in 1989 after training with some of London's leading flower designers. Not only a passionate advocate of British-grown, seasonal flowers, Shane is a champion of sustainability in his business and design practices, and among the very first to lead the #nofloralfoam movement that many are now embracing. He is a member of the floral advisory panel to the Royal Horticultural Society. Among his clients are the Victoria & Albert Museum in London and the Royal Academy of Arts.
In 2005, he was honored and delighted to be asked by HRH The Duchess of Cornwall to design her bouquet and all the other flowers for her marriage to HRH Prince of Wales and the service of dedication in Windsor Castle. In recognition of this, Shane was awarded a Royal Warrant of Appointment to HRH The Prince of Wales in 2006. In 2011 Shane was appointed Artistic Director for the wedding of TRH's The Duke and Duchess of Cambridge, and was awarded a second Royal Warrant of Appointment, to HM The Queen in 2015. HRH The Prince of Wales has long been a campaigner for the environment and has recognized the dangers of intensive farming, imported and GM food very publicly. Both he and his eldest son, HRH The Duke of Cambridge, are crusaders for environmental wellness, which provided Shane the tremendous distinction to design the florals for both of their marriage ceremonies in a naturally stunning, eco-conscious manner.
Eric T. Fleisher focuses on horticulture and soil science for F2 Environmental Design. Mr. Fleisher is a national leader in the field of sustainable horticulture, and was the former director of horticulture at Battery Park City Parks Conservancy (BPCPC) in lower Manhattan. Fleisher brought this 37-acre oasis of parkland on the Hudson River to the forefront as the only public garden space in New York City to be maintained completely organically. A 2008 Loeb Fellow at Harvard University, Fleisher is continuing to develop protocols to help landscapes recover from the 20th century's chemical interventions. He is a frequent lecturer on sustainable practices and serves as a consultant for some of the top institutions in the country.
Andrea J. Filippone is President of AJF Design, an all-encompassing design firm that blends Landscape Architecture, Interior Design, and Architecture to create cohesive indoor and outdoor spaces that transcend time and place. Designs consist of the finest European and American elements brought together to create environments that look as though they have always belonged there.
All projects are designed utilizing ecologically sound scientific practice to enhance the health and beauty of the environment. The boxwood nursery contains more than 50 cultivars nourished by and organic closed loop composting system and glass greenhouses that are powered by solar voltaic and thermal panels.
Andrea has a background in Architecture from Colgate, Harvard University Graduate School of Design, and the Institute of Architecture and Urban Studies.
Emily Thompson was raised in the Northeast Kingdom, Vermont, a place of uncompromising beauty. She brought her sense of this place, its ruins and its wilds, to her work as an artist, traveling from the Pennsylvania Academy of Fine Arts, the University of Pennsylvania, to UCLA, where she earned her MFA in sculpture, finally landing in New York City. Here, she fell in with a rough crowd of thorny brambles and made it her mission to bring them light.
Emily likes to cite William Gilpin, 18th century theorist of the picturesque, who directed builders of follies and artificial ruins to do so as if these ruins were not designed but naturally chosen. What's more, writes Gilpin, they must be in magnificent style. Emily's work, like her ideal faux ruin, evokes nature in magnificent style.