Arts, Creativity and the Global Crisis
Custom9:00 AM – 5:00 PMOctober 4 – October 4, 2019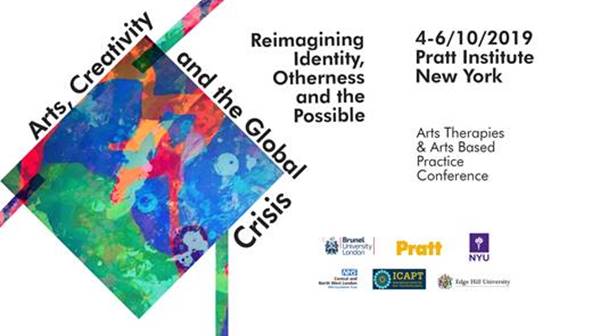 We are very pleased to announce the second international conference exploring the role of arts therapies and arts-based practice in addressing today's global challenges.
Our global and cultural narratives are at a critical intersection. As creative therapists and arts-based practitioners we play a role as do the people we serve, in re-authoring this story. This conference offers an opportunity to embrace the globality of the issues at hand and to collectively respond through reimagining identity, otherness and the possible.
This conference will run presentations, workshops and global networking forums to explore how we will continue to work towards ambitious collective impact through the use of arts in health, society, research and education.
Confirmed speakers:
Prof. Thomas Betteridge, Brunel University, UK
President Frances Bronet, Pratt, US
Prof. Michael Franklin, Naropa University US
Prof. Dominik Havsteen-Franklin, Brunel University, UK
Prof. Vicky Karkou. Edge Hill University, UK
Prof. Nisha Sajnani, NYU, US