Artist Talk: Silvia Maglioni and Graeme Thomson: In the Dark Matter of the Image
September 19, 2018 5:30 PM – 7:30 PM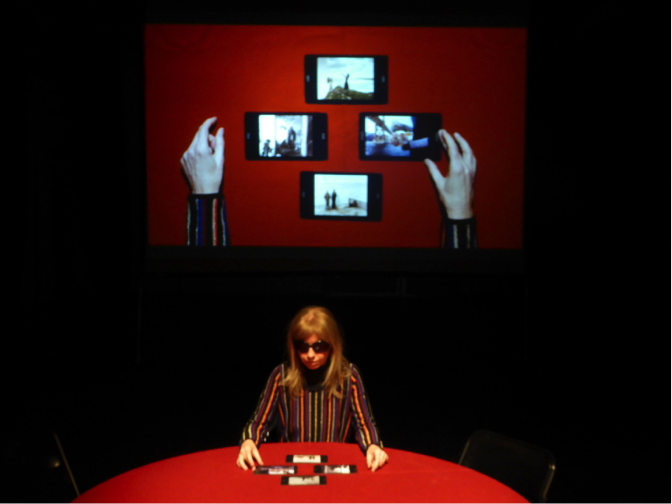 What is the life of an unmade film? What possible forms can it take? What future lives lie concealed in the rushes of a lost archive? How can a still make movement explode? What other uses can we find for cinema images? In their artist talk, drawing on both past and ongoing projects, Silvia Maglioni and Graeme Thomson will present aspects of their multi-faceted practice through the lens of what they call Dark Matter Cinema: the invisible or unrealised part of the cinematic image and its potential for fostering sym-poiesis, forms of life, storytelling, and unlearning through fabulation and collective visions. The talk will be followed in the evening by a collective reading of the artists' Dark Matter Cinema Tarot.
The Dark Matter Cinema Tarot is a vernacular technology, a tool to collectively explore how cinematographic images can open up new channels of perception connecting different realms of personal, aesthetic and political experience and enquiry, reaching towards the dark matter that haunts cinema and the ghosts of both past and future lives that inhabit it. In conceiving the DMC Tarot, Silvia Maglioni & Graeme Thomson have replaced the traditional Major and Minor Arcana with a selection of still frames drawn from the history of cinema. Each reading of the Tarot summons a Nocturnal Committee and invites participants to come together to pose burning questions to the cards. At this first Nocturnal Committee to be held in the US, you will have the opportunity to share visions and speak through cinema images via a process of speculative description, collective fabulation and storytelling, pursuing the alternative narratives that may be harboured in the different constellations of figures, forms and forces resulting from each fall of the cards.
Presented by the Department of Humanities & Media Studies
Graeme Thomson & Silvia Maglioni are filmmakers and artists based in Paris. Their practice interrogates potential forms and fictions emerging from the ruins of the moving image and includes the creation of short and feature films, sound works, installations, film-performances, eventworks, books and vernacular technologies. Their films include Wolkengestalt (2007), Facs of Life (2009), In Search of UIQ (2013), Disappear One (2015), and Underwritten by Shadows Still (2017). Their work has been shown and exhibited at film festivals, museums and art spaces worldwide, recently FID-Marseille, BAFICI, Jihlava, Centre Pompidou, Anthology Film Archives, REDCAT, MACBA, Tate Britain, Whitechapel, Serralves, KHOJ New Delhi, Museu de Arte Moderna de Bahia and IMA Brisbane. Thomson and Maglioni are currently working on a new film, Common Birds.