Art Food
Custom11:00 AM – 6:00 PMJune 25 – June 25, 2018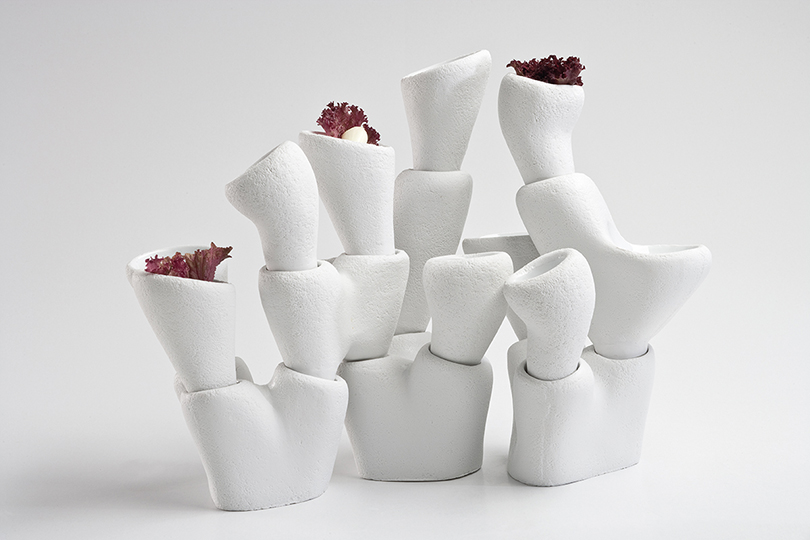 This exhibition documents four editions of a design incubator (2013-2016) where students from the School of Form in Poznań, Eugeniusz Geppert Academy of Fine Arts in Wrocław, Academy of Fine Arts in Gdansk, Academy of Fine Arts in Krakow (Poland); Royal College of Arts, Central Saint Martins College (London); and Pratt Institute designed ceramic ware to showcase culinary art prepared by cutting-edge food stylists. The project was led by Marek Cecuła and held at the Ćmielów Design Studio in the Polish Porcelain Factories "Ćmielow" and "Chodzież," Poland.
Student designers:
2013 edition: Marta Szostek, Landon Peck, Dominika Bździak, Andrew Deem, Dorota Mostowiak, Emma Finch, Ewelina Wiśniowska, Karolina Rybak, I Liang Liu, Paulina Masternak, Rachel Cox, Tosia Kiliś, Alicja Patanowska
2014 edition: Aldana Ferrer Garcia, Karolina Bednorz, Sukyung Lee, Joana Cartaxo, Nadine Foik Marta Dachowska, Teresa Milewicz, Patrycja Śliwińska, Amanda Tong, Adri Kelly, Bridgette Chan
2015 edition: Justyna Chodnikiewicz, Agnieszka Sulkowska, Akvile Zukauskaite, Filip Nizynski, Michał Bilinski, Hanna Litwinowicz, Richie Yuquan Chen, Sun-A Kim, Nicholas Koscinski, Magdalena Theodorou
2016 edition: Claire Feinberg, Klaudia Kasprzak, Sonia Kalandyk, Aditi Kedia, Hannah Kruh-Vort, Aleksandra Kuta, Paulina Morawa, Matylda Polak, Amy Seabolt, Dierdre Shea, Dorota Ziaja, Ewa Żak
Organized by the Adam Mickiewicz Institute / Culture.pl, Modus Design Marek Cecuła Studio, Polish Porcelain Factories "Ćmielów" and "Chodzież," and Ćmielów Design Studio. For more information contact www.culture.pl.
Image credit: Dorota Mostowiak, School of Form, photo: Cezary Hładki
---
For more information and gallery hours, please visit the Pratt Manhattan Gallery page.