Alexis Pauline Gumbs – "The Broadness of Your Vision": Archive and Oracle
April 17, 2019 5:30 PM – 7:30 PM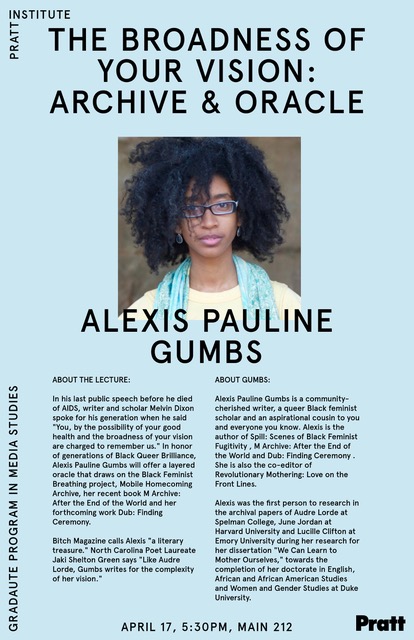 "The Broadness of Your Vision": Archive and Oracle
In his last public speech before he died of AIDS, writer and scholar Melvin Dixon spoke for his generation when he said "You, by the possibility of your good health and the broadness of your vision are charged to remember us." In honor of generations of Black Queer Brilliance, Alexis Pauline Gumbs will offer a layered oracle that draws on the Black Feminist Breathing project, Mobile Homecoming Archive, her recent book M Archive: After the End of the World and her forthcoming work Dub: Finding Ceremony.
ABOUT GUMBS:
Alexis Pauline Gumbs is a community-cherished writer, a queer Black feminist scholar and an aspirational cousin to you and everyone you know. Alexis is the author of Spill: Scenes of Black Feminist Fugitivity (Duke Press, 2016), M Archive: After the End of the World (Duke Press 2018), and Dub: Finding Ceremony (forthcoming Duke Press, 2020). She is also the co-editor of Revolutionary Mothering: Love on the Front Lines (PM Press, 2016). Bitch Magazine calls Alexis "a literary treasure." North Carolina Poet Laureate Jaki Shelton Green says "Like Audre Lorde, Gumbs writes for the complexity of her vision." Alexis was the first person to research in the archival papers of Audre Lorde at Spelman College, June Jordan at Harvard University and Lucille Clifton at Emory University during her research for her dissertation "We Can Learn to Mother Ourselves," towards the completion of her doctorate in English, African and African American Studies and Women and Gender Studies at Duke University. Alexis is now the provost of the Eternal Summer of the Black Feminist Mind in Durham, NC and co-founder of the Black Feminist Bookmobile, Black Feminist Film School and the Mobile Homecoming Trust Living Library and Archive of Queer Black Brilliance. Alexis is also Creative Writing Editor of Feminist Studies and the 2017-2019 visiting Winton Chair of Liberal Arts at University of Minnesota.
Hosted by the Graduate Program in Media Studies