A Conversation About Collaborative Social Design
September 13, 2023 6:30 AM – 8:00 PM
Higgins Hall Auditorium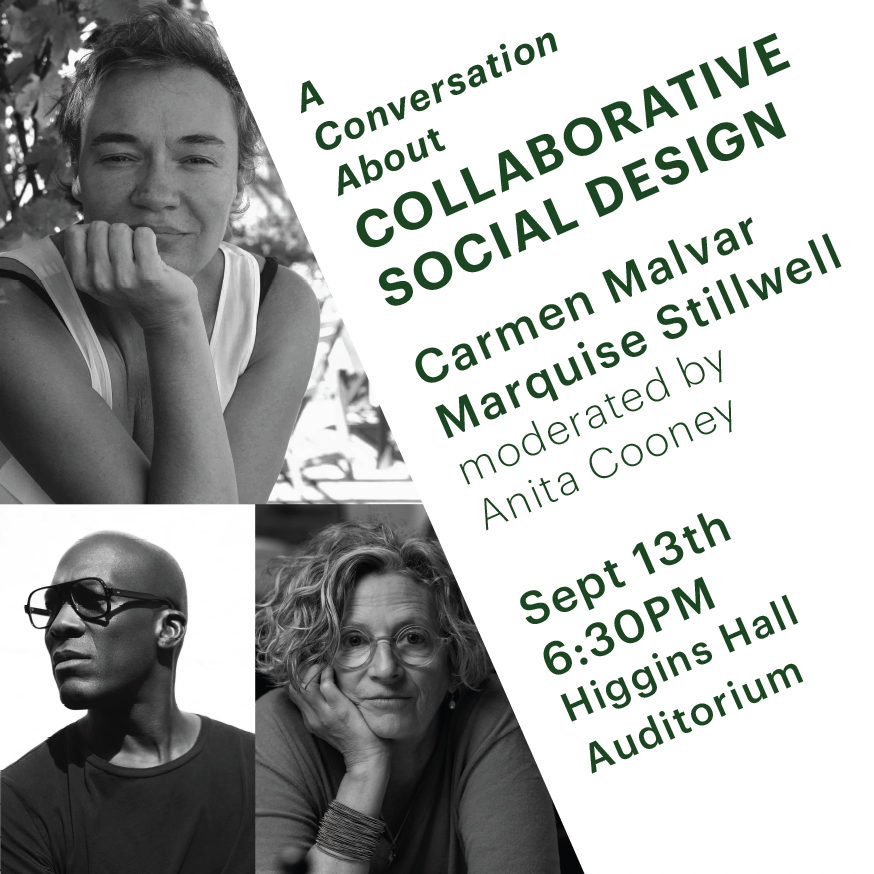 Presentation and discussion in the context of the book Collaborative Social Design with Mexican Indigenous Communities.
Carmen Malvar
Dr. Carmen Malvar (Ph.D.) is an Adjunct Professor in Interior Design at Pratt Institute, a design practitioner, researcher, and educator member of the international GIS research group for Retail and Service Futures (DRS) London with 20 years of experience in leading teamwork-based on design practice. Her research and practice are guided by the commitment to the development and implementation of strategies, products, services, and sustainable business models that support conditions for change and serve as vectors of transformation in underserved communities with the goal of fostering social inclusion through interactions between culture, commerce, and identity within the global economy. Carmen has worked on projects researching the social and ecological impact of global industries and their backstage production, designing and implementing strategies through the production process and distribution chain. She received her PhD in Social Design from Winchester School of Arts and Humanities (UK) where her doctoral research was supported by a fellowship. Her current book focuses on a decolonized design research case study engaging several indigenous communities in Mexico. She is a senior strategist and designer at Atelier Malvar & Tusch and Founder and Director of CADA Foundation. She is a collaborator of the UNESCO Chair for Sustainability in Barcelona.
Marquise Stillwell
With a practice spanning over two decades, Marquise Stillwell's journey began with a curiosity for people and spaces that later developed into a passion for designing systems that make all environments better for everyone. Holding an MBA and MA in Economics, Marquise was interested in social behavior and how humans negotiate space and value. Early on, he took on several corporate positions with an understanding that he would soon be executing his ideas independently. Working as an intrapreneur, he was able to leverage his talent to grasp the way these large ecosystems operate and how people work together. In 2009, Marquise founded Openbox—a design research and planning studio based in New York City that works at the intersection of people, cities, and the planet. Within Openbox, he later co-founded Opendox, a film company that tells lesser-known narratives around art, science, nature, and politics. At Opendox, Marquise has executive produced The New Bauhaus and most recently co-directed This World Is Not My Own, which premiered at SXSW and Hot Docs. A creative entrepreneur, investor, and cultural ally, Marquise's continuous focus is on making big ideas tangible for all people. He believes that we can help inform the future of cities by thinking about people first and buildings and objects second. Under this framework, he co-founded Deem Journal, a collaboration between Openbox and Room for Magic. For Marquise, Deem offers a way to ask better questions. Seeking to investigate a new horizon in the overlap of fine art and tech, Marquise co-founded Artmatr, an international community of artists and engineers working to merge digital technology with painting methods. Marquise believes that coastal resilience and climate change are social justice issues, leading him to co-found Urban Ocean Lab with Dr. Ayana Elizabeth Johnson and Jean Flemma. Together they develop policy solutions for coastal cities. Most recently, he acquired Stae, a go-to open-source data hub that allows people to visualize and leverage open city data in a meaningful way. Additionally, Marquise serves as a board member for the Center for Architecture and on advisory boards for Creative Capital and Riverkeeper. He is also a member of the High Line Advisory Committee, a fellow at Urban Design Forum, and a Founding Board Member and Co-Chair at The Lowline, the first underground park.