16th Annual LGBTQA College Leadership Conference
October 19, 2018 10:00 AM – 4:00 PM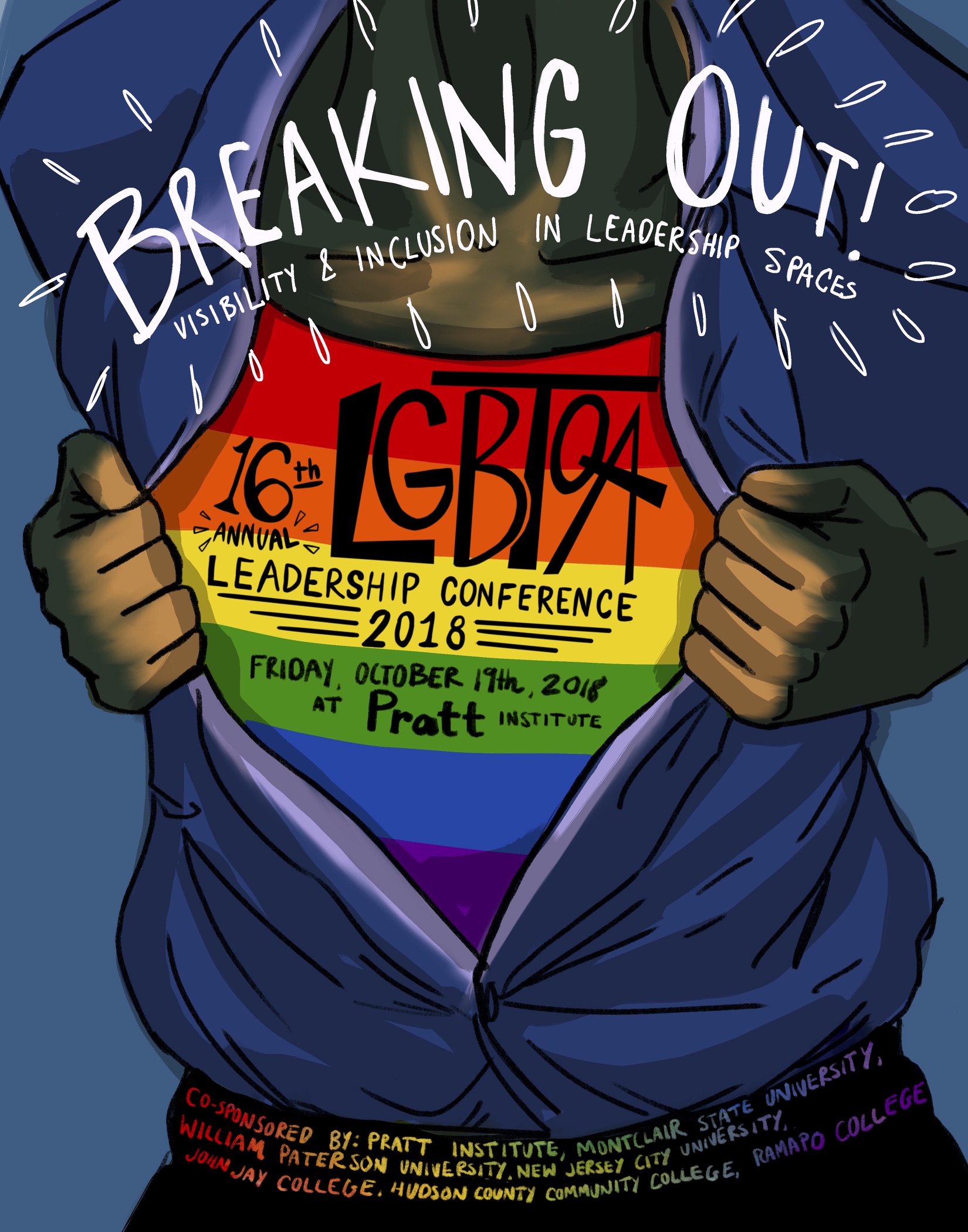 The 16th Annual LGBTQA College Leadership Conference, which brings together college students, faculty, staff, and members of the surrounding community for educational and leadership development, will be held on Friday, October 19, 2018, at Pratt Institute in Brooklyn, NY.
Titled "Breaking Out: Visibility & Inclusion in Leadership Spaces," this year's conference focuses on creating visibility and inclusion through leadership to expand LGBTQ+ activism. The discussion will focus on ways to facilitate social and political change through leadership tools that can be used to expand advocacy efforts, and the opportunity to learn about initiatives on a various college campus in support of LGBTQ+ students.
Breakout sessions featuring three concurrent workshops each on a variety of topics will be held from 1:30–2:30 PM, and 2:45–3:45 PM. Students will have the opportunity to participate in a poetry and spoken word open mic during lunch.
Hosted by a consortium of colleges and universities including William Paterson University, New Jersey City University, Montclair State University. Hudson County Community College. Pratt Institute, the conference is open to the public and draws student, faculty, and staff from universities, colleges, and high schools in New Jersey, New York, and Pennsylvania areas.
Admission is OPEN for all students, faculty, and staff. Admission is free for students with a valid student ID and $15 for all other registrants. Online registration will be available until Monday, October 15, 2018. Limited registration will be available at the door on the day of the conference. Information on the conference is available at:
lgbtqaleadershipco.wixsite.com/njlgbtqa
For more information, please contact the Center for Equity & Inclusion at 718.230.6855 or cei@pratt.edu.
Information:
Pratt Institute is accessible via car or public transportation! Please click the link for more details: www.pratt.edu/the-institute/visit-pratt/maps-and-directions
Additional conference information is now posted on the conference website: lgbtqaleadershipco.wixsite.com/njlgbtqa
Breakout Session I:
Sexuality & Spirituality: Exposing the Myths and Exploring the Truths
Presenter: Rev. Diana Wilcox
The Road to Inclusivity
Presenter: Chrystal Mateo
Healthy Relationships for the LGBTQ+ Community
Presenter: Jim Collier
Breakout Session II:
Know Your Rights
Presenter: Jessica Penaranda
Polyamory and Poly Ethics
Presenter: Jé Hooper
Suicidality & Understanding Our LGBTQ Students
Presenter: Donnalynn Scillieri
Register now for the 16th Annual LGBTQA College Leadership Conference!