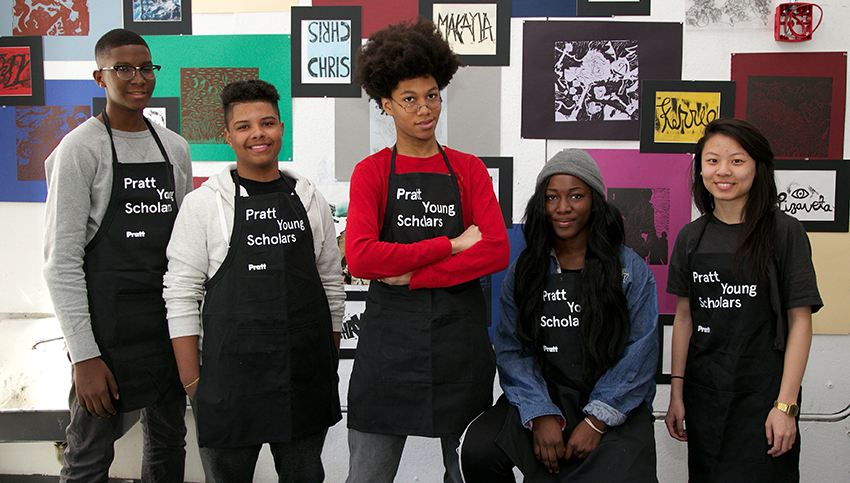 Mission
The mission of Pratt's Center for Art, Design, and Community Engagement K-12 is to increase access to instruction in art and design for young people by leveraging the resources and expertise of the Institute to support school-age children, city-wide public schools, and youth-serving organizations. The Center brings together art, design, and architecture to create meaningful educational exchanges between Pratt faculty and students, and schools and community-based organizations that benefit the learning goals of both, as well as advance academic research in K-12 art and design education.
Pratt K-12 offers expertise, shares resources, supports research, and provides leadership to stimulate and expand community engagement and increase access to instruction in art and design for young people. Advocating for the advancement of democratic values through public and institutional policy designed to strengthen and support underserved communities, Pratt K-12 aims to improve youth outcomes and advance access to higher education and employment and subsequent success in all art and design fields. Pratt K-12 supports the national movement to align the mission of higher education with K-12 educational goals and helps to actively prepare students for college and careers, supports smoother transitions between high school and college through developing in school, as well as out-of-school time programs and partnerships.
All programs offer undergraduate and graduate students studying art, design, architecture, and related fields opportunities in community-based education in their major while simultaneously bringing art and design classes to the K-12 community.
Goals
coordinate existing programs K-12 and other related programs and initiatives
provide leadership and support for faculty, staff, and community partners on the design, development, and implementation of K-12 community-based programs and initiatives
develop and monitor collection of data and analysis for longitudinal studies of center and program efficacy
deepen the learning of undergraduate and graduate students through civic engagement in community-based programs
"after being a part of the Pratt Young Scholars Program, I have seen [them] continually chanllenging themselves as well… their peers. All four students have excelled this year in my class and I believe I owe a lot of that to Pratt Young Scholars"

J. Pincus, Teacher, Midwood High School, Brooklyn