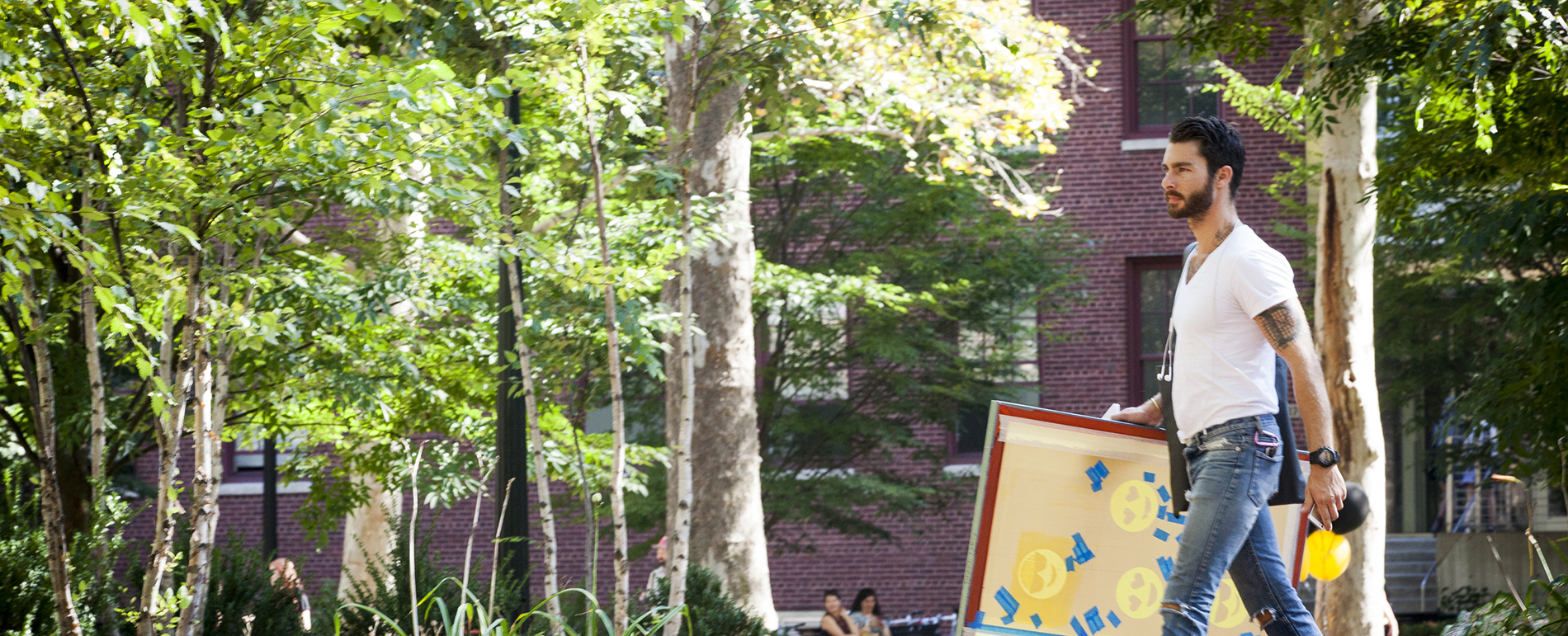 FINANCIAL AID INFORMATION
---
Undergraduate­­
Pratt offers undergraduate students two main types of scholarships: a generous program of merit-based scholarships and restricted and endowed scholarships. In addition, need-based grants (gift) are added to the package to make the cost of attendance more affordable for more families.
PRATT GRANT
This grant, funded by Pratt Institute, is designed to assist Pratt students with their educational expenses. This aid does not have to be repaid.
Forms to Submit
Submit a FAFSA by the October 1 priority filing date.
Eligibility
Full-time undergraduate students
Must demonstrate financial need through the FAFSA process
Maintain satisfactory academic progress
Limited to U.S. citizens and permanent residents.
Minimum Annual Amount
$1000
PRESIDENTIAL MERIT-BASED SCHOLARSHIPS
The Presidential Merit-based scholarships are awarded upon acceptance by the admissions office according to a carefully developed program based on the major, the GPA, test scores (freshmen only), and portfolio if required. Architecture merit-based scholarships are awarded based on SAT/ACT test scores (freshmen only) and high school GPA. Transfer scholarships are based on portfolio and college GPA. All college transcripts are included in the calculation. Undergraduate students must maintain a 2.5 GPA to renew their scholarships each year.
INTERNATIONAL MERIT SCHOLARSHIP
International students are eligible for our international merit-based scholarships. International students do not qualify for need-based aid. There is no application for the merit-based scholarships awarded to incoming students, and all accepted applicants are considered automatically. Therefore, students are not required to submit a FAFSA to qualify for merit-based scholarships.
NATIONAL SCHOLASTIC SCHOLARSHIPS
Pratt Institute recognizes The Scholastic Art Awards program of the Alliance for Young Artists & Writers as an appropriate and effective way for students interested in art and design to develop successful portfolios for college admission. Pratt reserves scholarships for qualified national awards recipients who independently and successfully apply to Pratt. These awards are in addition to any other merit scholarships the student has received from Pratt and are awarded for Scholastic awards in the senior year only. Pratt will award the following:
Portfolio Gold Award Recipients in General Art or Photography: $1500/year for four years
Portfolio Silver Award Recipients in General Art or Photography: $1000 a year for four years
Gold Award Recipients Individual works: $500 a year for four years.
The Alliance for Young Artists and Writers will officially notify us of your National Award. For more information on the Scholastic Art and Writing Awards, visit the Alliance for Young Artists & Writers at www.artandwriting.org. (Please note that this award will not appear in your initial financial aid package since we usually do not receive official notification from the Alliance until after financial aid packages are determined.)
---
Graduate

GRADUATE ASSISTANTSHIPS / FELLOWSHIPS
What is the purpose of the program?
To provide funds and professional experience from institutional
sources to help meet a student's costs.
How much are the awards?
The awards range from approximately $500 to $5,000 for the academic
year and are paid directly to the student twice, at the beginning and
end of each semester, and are not deductible from the Bursar's bill.
Who can receive this money?
Graduate students with demonstrated proficiency in their area of study.
Financial need is only a part of the selection criteria for assistantships.
How much do I have to repay?
No monetary repayment is required; students must complete assigned tasks.
How do I apply?
Through your department chairperson.
GRADUATE ASSISTANTSHIP REGISTRATION REQUIREMENT
To receive an assistantship for Summer semester, a student must be registered for at least 3 credits in the summer session and/or 6 credits or more credits in the Fall. To receive an assistantship for the Fall and Spring semesters, a student MUST be registered for 6 or more credits (thesis will meet this requirement) in the given semester.
RIGHTS AND RESPONSIBILITIES OF RECIPIENTS
For assistantships or fellowships to be awarded in successive years, the student must make satisfactory academic progress toward a degree and show financial need. Students must not owe any refunds on Federal Pell Grants or any other awards paid, or not be in default of any student loan.
GRADUATE SCHOLARSHIPS
Graduate departments consider all accepted applicants for generous merit-based scholarships, all of which are automatically renewed for each year of the degree. No application is required to be considered. Amounts range by department. Continuing students are considered for assistantships as well as endowed scholarships based on particular criteria. Continuing students must be matriculated and maintain full-time status with a 3.0 GPA to maintain their awards.
---
PRATT RESTRICTED AND ENDOWED AWARDS AND SCHOLARSHIPS
What is the purpose of the program?
To provide funds derived from Institute endowments and restricted gifts that are granted to students according to the wishes of the donor and on the recommendation of the appropriate dean or departmental chair.
How much are the awards?
The awards range from $100 to $5,000 for the academic year.
Who can receive this money?
Full-time students who have applied for aid and have demonstrated financial need and are making satisfactory academic progress. Some awards are based on academic merit only, and all are based on departmental recommendations.
How do I apply?
There are no special application forms for restricted and endowed scholarships. Each department determines its own application process. Recipients are selected by deans or department chairpersons based on criteria established by donors.
---
CONSORTIUM AGREEMENTS
This Consortium Agreement (CA) will allow you to use some of your federal student aid (Federal Pell Grant, Federal Direct Subsidized and Unsubsidized Loans, Federal Direct PLUS loans), and TAP (if you are a New York resident attending a New York State School full-time) at another approved school or program. Please note that this agreement cannot be used for campus-based or Pratt aid programs. Federal regulations allow only one institution, the "home institution," to award federal financial aid. As the "home institution," Pratt can recommend these forms of aid when its students study elsewhere, and obtain permission in advance to transfer the courses to the Pratt degree program. Academic progress standards for Pratt do not change during period of agreement. As the home school, Pratt will pay on the Pell Grant of eligible students. Awards are based on the actual cost of attendance at the Consortium School.
Downloads