The day-to-day challenges of construction management make for some of the most demanding assignments in the world, whether the construction of a towering skyscraper or a low-rise condo. Construction management is a collaborative effort, there are no major projects that are built without this crucial team in place. Pratt has the distinction of being one of the first, and one of the few, schools in the nation to offer this degree program.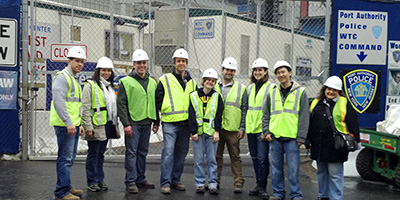 Type

Undergraduate, BS

Department

School
The Construction Management bachelor's degree program requires the completion of 121 credits.
During the first two years of study, students take a combination of classes during the day and in the evening. Junior- and senior-year required courses are offered in the evening to encourage students to engage in an internship and to accommodate students and professionals working in the field. Students may vary the program through their choice of electives that emphasize architecture, real estate, or other construction and built environment related roles.
This program was developed for transfer students and students pursuing a second bachelor's degree. Those entering with acceptable transfer credits may complete the program in less than four years. Applicants with approved college credits should request an evaluation by the department to determine if the BS degree sequence is the appropriate path to the degree.
Graduates of the Construction Management Program will be able to apply the knowledge from their construction management education to prepare a proposal that includes the following
    Project Schedule
    Project Estimate
    Site Logistics Plan
    Site Safety Plan
Graduates shall achieve professional level competency in the following:
    Communication Skills
    Engineering Concepts
    Materials, Methods, and Project Modeling and Visualization
    Bidding and Estimating
    Budgeting, Costs, and Cost Control
    Planning, Scheduling, and Schedule Control
    Construction Safety
    Construction Geomatics
    Project Administration
 Graduates will have the skills commensurate with those required to secure an entry-level position within the construction profession.
    Be capable of collaborating with members of a team
    Possess a passion for lifelong learning