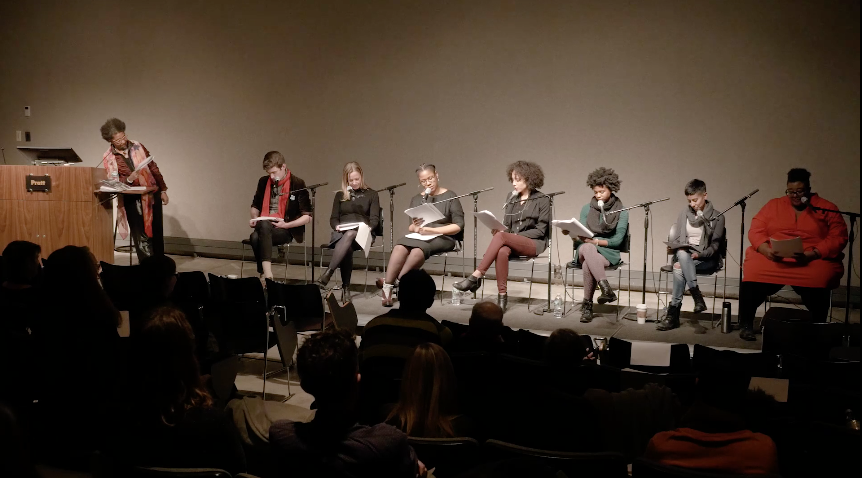 The Leslie Scalapino Lecture in Innovative Poetics is an annual lecture series hosted by Pratt Institute with a focus on the critical analysis of innovative poetry, essays, plays and cross-genre work primarily by women poets. The series invites contemporary writers to present their work in the spirit exemplified by Scalapino's own critical writing and editorial vision as publisher of O Books.
The Pratt MFA in Writing is proud to host this lecture series. Past presenters have been Erica Hunt, M. NourbeSe Philip, Myung Mi Kim, and Tisa Bryant. The series furthers the mission of the Pratt MFA in Writing, which is to support language and thinking that expands artistic and political practices through writing, performance, and new media.

Previous lecturers in the series, which is hosted also by Naropa Institute and the University of California, Berkeley, have included Joan Retallack, Jalal Toufic, Petah Coyne, Renee Gladman, Lisa Robertson, Judith Goldman, Dorothy Wang, Divya Victor and Simone White, Ronaldo Wilson, and Dawn Lundy Martin.

Leslie Scalapino (July 25, 1944–May 28, 2010) was born in Santa Barbara, California and raised in Berkeley. She traveled throughout her youth and adulthood to Asia, Africa and Europe—including Tibet, Bhutan, Japan, India, Mongolia, Yemen, Libya, and elsewhere—and her writing was intensely influenced by these experiences. She published her first book, O and Other Poems, in 1976. In 1986, she founded O Books, dedicated to publishing innovative works by young and emerging poets, as well as prominent and established writers. She also taught writing for nearly 25 years at various institutions, including Bard College (16 years in the MFA program), Mills College, the San Francisco Art Institute, and the California College of Arts in San Francisco. She lived with Tom White, her husband and friend of 35 years, in Oakland, CA until her death in 2010.
Watch the lecture/performance by M. NourbeSe Philip.