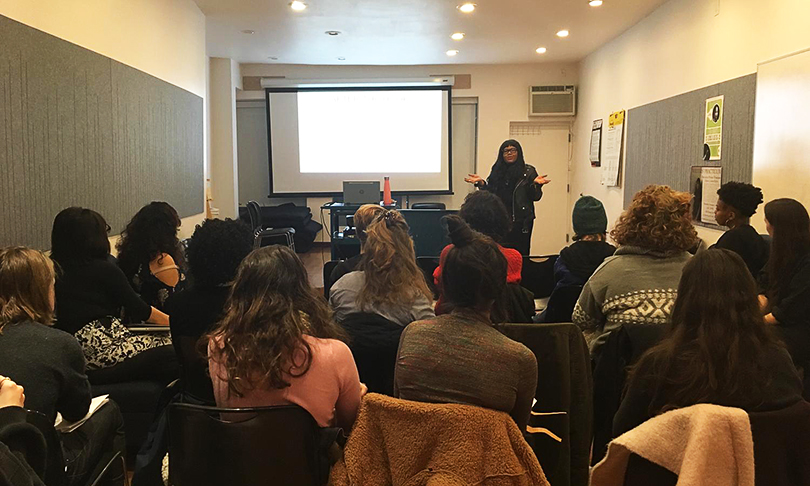 Internship
The BFA Writing Program offers a two-semester course designed to prepare undergraduates for a life in writing. The first semester, "Introduction to the Professional Workplace," combines an overview of various writing-related fields with practical preparation (resumes, cover letters, interviews) for applying to internships. Professionals in the field (editors, agents, writers, producers, journalists, educators) and program alumni visit the class for presentations and Q&As. Students spend the spring semester working at their internships while meeting regularly in small groups with their instructor to discuss and critique their experiences, encouraging students to take responsibility for their futures as writers who will also be workers. BFA students each participate in an internship or apprenticeship experience that is designed and honed under the guidance of the internship coordinator to ensure that it constitutes a meaningful experience for the student and escapes common pitfalls of traditional internships.
The Art of Teaching Writing: Saturday Writing School
The Art of Teaching Writing is an opportunity for Pratt Writing students to switch seats in the classroom, and gain experience as teachers in charge of their very own creative writing course. Students in this course will develop curriculum for, and teach, 10 creative writing classes to a group of students aged 8-13, culminating in a public reading and class publication. Pratt Institute has a longstanding tradition of community engagement, and since 1897 Pratt Institute's Saturday Art School has been serving the local community through a broad range of classes for children and teens. Creative Writing is a relatively new offering within the framework of Saturday Art School, and has proved very popular with young people eager to develop their voice as fiction writers, poets, zine artists, memoirists and essayists. Pratt students meet each week with the instructor for a one hour preparation and pedagogy discussion, then teach a two-hour class, followed by another hour of reflections on the day's class, and observations from the instructor on the student's progress as teachers. The special emphasis in this course is to help Pratt students to develop a teaching practice that fuels, and is fueled by, their creative practice: it is designed for students who are thinking about how to combine a teaching practice with a creative practice in the course of their career. On a practical level, the class serves as a valuable resume builder, and past students have gone on to teach in summer writing camps and after school programs while still undergraduates. For others, the experience of teaching a creative writing course helps students to deepen and integrate the learning they are doing in the role of students in the creative writing classroom.
Fieldwork
Fieldwork is the component of the MFA curriculum for which students instigate projects—often in collaboration with educational initiatives, community and activist organizations—that bring them "into the field," allowing them to explore political commitments that fall outside the scope of their writing practices and/or to extend and deepen the direct impact of their work in the world. Students begin thinking about their fieldwork projects in the summer between their first and second years, spend the fall semester of their second years solidifying and beginning their projects, and complete them in the spring. "Dispatches" (documentation in an appropriate form for each student) are shared at graduation time with the MFA and BFA communities and beyond.
Writers' Practicum
Approximately twice a semester, an intra-departmental (BFA and MFA) colloquium is held, in which speakers from within and without the Pratt Writing community are brought in to host roundtable discussions to address a specific challenge or opportunity that writers tend to face as they enter (or try to improve their status in) the workforce.
One-day Intensives
These all-day, non-credit-bearing optional workshops introduce students to potential avenues for developing a professional life in writing, with a focus on hands-on practice and skill-building.