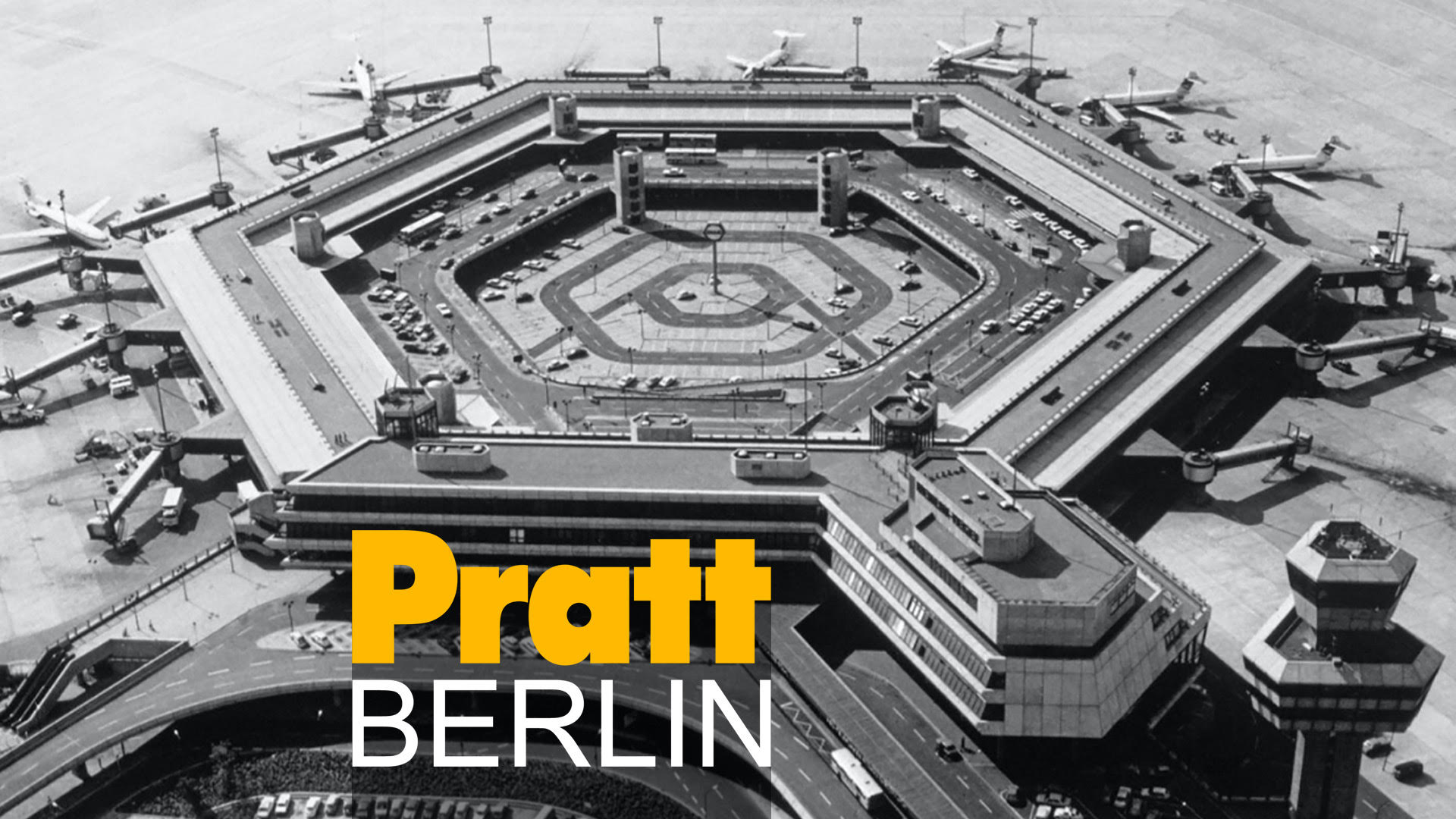 PRATT BERLIN: INTERDISCIPLINARY ELECTIVE
RECONSIDERING TXL
Pratt.Berlin develops alternative scenarios for the reuse of Tegel Airport
Pratt Institute offers again a month-long Berlin Summer Program, an inter-departmental seminar for students from the School of Architecture, School of Design and School of Liberal Arts. Students travel to Berlin, Germany and stay throughout the month of July 2023 for a three-credit seminar within the Summer Credit Intensives Program, working in interdisciplinary teams and fulfilling students' requirements for all-institute electives.
Please fill out this form to get notified of upcoming information sessions.
Find the program description on Terradotta, here.
Partnering universities in Berlin are Weißensee Kunsthochschule Berlin, Universität der Künste, Berlin and the ANCB Campus hosting the group.
The Berlin Summer Program forges an in-depth engagement with faculty and students at these Berlin design schools and focuses on issues of urbanity, social entrepreneurship and civic engagement, aiming to develop a sense of strategic innovation and empowerment through design.
The seminar invites students to develop adaptive reuse concepts for the former Flughafen Tegel Terminal A building and area. Built in 1975, the visionary design by a young architecture firm served as a lifeline for the walled-in city well beyond the fall of the Berlin wall. Its iconic hexagonal layout became a visual marker for anyone traveling to or from Berlin.
The seminar will ask students to develop concepts for the former Flughafen Tegel area. Landmarked in 2019 and decommissioned 2021, the buildings of the former Tegel Airport are slated to become the new home for Beuth University's industrial and research park for urban technologies. Before these designations, for over 70 years Berlin Tegel served as the main entry point to Berlin-West for citizens and visitors alike. The airport opened in 1948 and was catered to by the Western Allied forces. In 1974 the young architecture firm von Gerkan, Marg and Partner devised a visionary design that incorporated many aspects of the coming globalization and infrastructural performance. Being accessible exclusively by non-German airlines operated by the allied forces during the cold war, many Berliners developed a sentimental relationship with the structure.
Since its construction in the 1970s and until the fall of the Berlin wall, Berlin-Tegel served as a lifeline for the walled-in city and its iconic hexagonal layout not only guaranteed the fastest check-in routine for any major city airport around the world, but also as visual marker for anyone traveling to or from Berlin.
The Pratt Berlin students 2022 envisioned possible adaptive reuses of the airport structure, including a climate refugee protection and integration center, an interdisciplinary museum and laboratory for materials and waste reuse and a food production, distribution and education center.
---
FACULTY PRATT INSTITUTE
Gisela Baurmann, Dipl. Ing. Architektin MSAAD, Coordinator, Adjunct Associate Professor
Jonas Coersmeier, Dipl. Ing. Architekt MSAAD, Adjunct Associate Professor CCE