Far Flung
Study Abroad Inspired
An Exhibition Of Alumni Work In Celebration Of International Education Week
November 15th-19th, 2021
My name is Shelton Brown. My home country is the U.S. I was enrolled in the BFA painting program at Pratt. I studied painting and art history while abroad in Amsterdam at Breitner Academie Hogeschool Vor De Kunsten. My submission is a painting I completed my Thesis year, using oils and oil stick on canvas, depicting a cadmium red creature with upward traveling necks, three angular mouths, and blocky crenellated feet surrounded by jabbing strokes of graphite rainfall on an impasto foreground of zinc white over a deep grey blue. My time in Amsterdam was an extension of my development as a man and as a painter, not an isolated chapter bookended with passport stamps. Personally I avoid the romanticized idea of studying abroad as being profoundly more deep or valuable than studying in any given place. I haven't found that to be true. There is depth and beauty to be found everywhere and in everyone, regardless of varying kind or degree. It's not that foreign countries have any more of this special quality, they simply demand that we stop ignoring the individuality and beauty surrounding us. A new environment demands renewed attention. My experience abroad had a lot more to do with me and my life and experiences than it had to do with the Netherlands, Amsterdam, or even the school where I studied. I could never promise the experience I had to anyone else. That said, if you have passion for what you're doing, there will be an abundance of artists and their work, from today and centuries past, to satisfy your hunger and fuel your practice for decades to come. If you're wondering whether studying abroad will be worth the risk for you, stop wondering. It isn't a yes or no answer, it's something you decide to find out for yourself. Take a deep breath, bring underwear in your carry on, and good luck! 
My name is Vinny Sacchetti and I studied Film/Video at Pratt Institute. I chose to study abroad in Italy because I'd visited before and loved it there. I knew it would be the perfect place to be reinspired artistically and culturally.  Studying abroad was mind and world opening, I felt as if my experience there was an adventure outward and inward. By having beautiful new experiences with new places and friends, and learning about new subjects and taking classes that inspired me, I found my identity as an artist loosening and broadening but at the same time solidifying more. The beauty of Italy and my experience there related to my memories of childhood and the feelings of wonder and play associated with it, and this theme of childhood was the main influence on my thesis film. I spent a lot of time abroad sketching and drafting songs on my computer, and several of those songs went on to influence or literally be in my film as the musical score. This time spent in an environment where I could nurture my creativity without the same expectation or pressure that comes from your major at home allowed me to tinker and explore ideas freely. As a result I felt very connected to what I left study abroad with and carried that inspiration for my entire senior year as I made my film.
My name is Emma Blaise Doty, I'm from the United States and was a 2D Animation major at Pratt Institute. I had the opportunity to study abroad at Musashino University in Tokyo, Japan. I have always had a strong connection to Japanese culture and animation, so I was elated to learn about the study abroad program at Pratt. My experience abroad is something I will always cherish. I met so many wonderful people from around the world and learned much about myself as well. The film I am showing was my first time ever directing. This project confirmed to me that directing is what I am meant to do, so it holds a special place in my heart. I hope you enjoy it!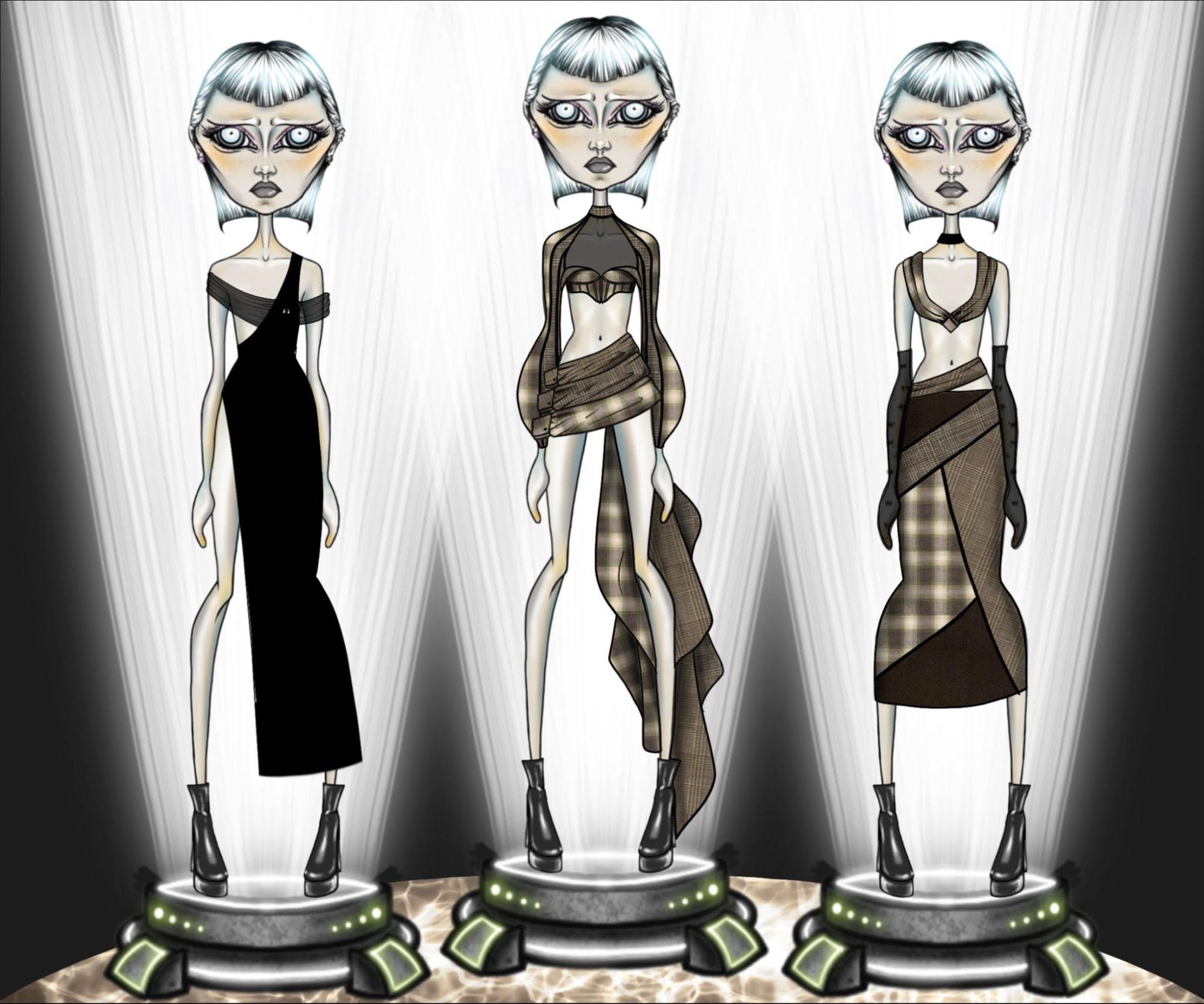 My name is Julia Serrano. I am the only student featured in this exhibition currently studying abroad! I am from Spain and my university is called ESNE Escuela Universitaria de Diseño, Innovación y Tecnología. I´m a part of the Exchange Student Program. One of my teachers from my home university offered me the opportunity to come here for a semester and as soon as he told me I knew this was going to be an amazing opportunity to improve and grow as a designer and as a person. For my fashion design class we are making a collection, in my case I decided to be inspired by the role of women today from a feminist point of view using my looks as a critique of inequality. For that reason I start from the base of men's shirts and turn them into something totally different as an act of rebellion and non-submission. Coming to study at Pratt and moving to New York has made me mature as a person and get to know myself a little better. I have had to start my life from scratch without knowing the country and without knowing anyone, so I have made an effort to meet people with the same or similar interests that I can learn from and be inspired by. Pratt is full of very creative and talented people, so I think it's the perfect place to surround yourself with that environment and improve your skills.