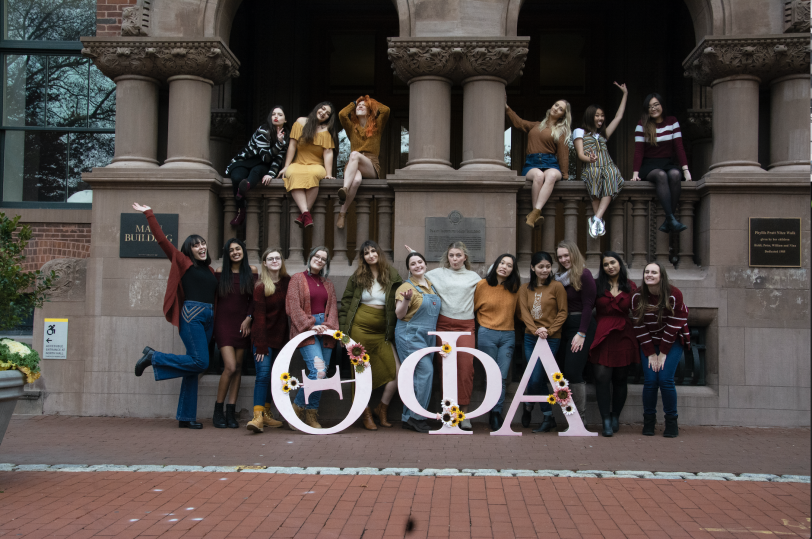 About Us
Theta Phi Alpha National Sorority, founded at Michigan State University in 1912, currently maintains over 52 chapters and 4 colonies across the country. The Gamma Eta chapter was established at Pratt Institute as a business and social fraternity in the Spring of 2002.
The members of Theta Phi Alpha are distinguished by their high values for scholastic, philanthropic, and social endeavors. In Theta Phi Alpha, there is an emphasis on developing strong bonds of sisterhood, acquiring professional and academic skills, and continuously supporting national and local communities.
Academic Development
Annual scholarship grants from Founders Foundation are awarded to collegiate sisters, and Theta Phi Alpha offers many leadership positions within the chapter and the Greek Community, where you will learn and develop long-lasting skills such as business acumen, time management, communication and collaboration.
Within Pratt campus, Theta Phi Alpha members can also be seen prominently in multiple leadership positions in organizations such as Pratt's Board of Trustees, Orientation Staff, Residential Life, Admissions, Pratt Soccer, Student Involvement, Pratt Cross-Country, the ARC, Black Alumni, Film Cult, Pratt Libraries, the Prattler, NYPIRG, Up Top Players, Program Board, ComD Agency and Fashion Society. Every semester, most of the women are honored on the President's and Dean's List and are recipients of many scholarships for their academic achievement. With Theta Phi Alpha members present in virtually every major at Pratt, there are constant learning opportunities and academic support available.
Philantropy
Theta Phi Alpha also strongly supports local and national philanthropies, and as a sister of Theta Phi Alpha, you will be involved in contributing to national philanthropies such as The House that Theta Phi Alpha Built, Glenmary Lay Missionaries and Camp Friendship, as well as local communities through events such as soup kitchens, trash cleanups, fundraising walks, blanket and card making and more.
Professional Development
Theta Phi Alpha women graduate to become successful leaders and contributors to their communities. Pratt graduates have gone on to be industrious leaders in companies such as the Metropolitan Museum of Art, Gap, Aeropostale, Proenza Schouler, Jimmyz, Rocawear, Cavali, Carolina Herrera, and more. Current members have interned at places such as NBC Universal Studios, Herman Miller and Switzer Architecture, to name a few. Theta Phi Alpha regularly hosts different events that provide professional development support to members through alumni connections, internship coaching and executive conferences.
As a potential and initiated member, you will be treated with respect and courtesy. Personal integrity will never be compromised or impeded upon through hazing or anything related to hazing. We hold each of our members to a high standard to not only display utmost respect for human rights, but also to advocate against any violation of them, whether it be within or outside our communities.
Contact Information
Chapter President: Carly Owens (cowens4@pratt.edu)
Chapter Instagram: @ThetaPhiAlphaPratt
National Website: thetaphialpha.org