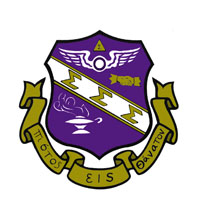 Sigma Sigma Sigma is a National Sorority that strives to live by its mission statement: to promote perpetual bonds of friendship, develop strong womanly character, and to inspire high standards of ethical conduct.

In the spring of 2007, the Eta Phi chapter of Sigma Sigma Sigma was installed, becoming the newest sorority at Pratt Institute, absorbing the local sorority Delta Alpha Pi.

From their installation on campus, TriSigma has worked to promote a positive Greek Life experience, planning socials and events through the Panhellenic Council, as well as the Inter-Greek Council, consisting of Theta Phi Alpha Women's Fraternity, Kappa Sigma Fraternity, and Pi Sigma Chi Fraternity.

Giving back to the community supports many of Sigma Sigma Sigma's core values, and the sisters regularly donate their time and funds to the MS Society, Breast Cancer Research, as well as to their own charity, the Robbie Page Foundation.
With the unique experience that comes from functioning within an artistic environment, Sigma Sigma Sigma works to create an open welcoming organization that allows women to better themselves, create lasting friendships, and serves as a support network not only in college, but also after graduation.
If you are interested in joining, please contact etaphi.recruitment@gmail.com.
Contact Information
Chapter President: Gavi Sanders (gsander@pratt.edu)
Website: pratt.trisigma.org