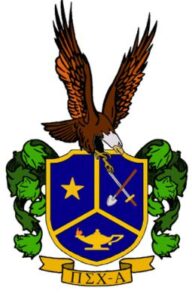 The story of the Fraternal Brotherhood of Pi Sigma Chi is not one of great unique quality. The distinctiveness, on the other hand, lies within its exceptional brothers. Six gentlemen who felt as though the regulations imposed upon them by the National Office of Phi Kappa Theta were not those by which they wanted to be identified with founded us in 1991, at Pratt Institute in New York. Our Founding Fathers sought to establish an organization that would counter stereotypes, promote a moral code not common to fraternities and stress academics above all else.
Pi Sigma Chi exists by five principles, which we call "The Pillars." Academics, Charity, Respect, Love, and Social Development are the foundation from which this organization was formed and continues to be the guiding aspect in all pursuits of the Fraternity, even today. Although we are a relatively young brotherhood, one should not discount the accomplishments that our brothers have already achieved. Because Pratt Institute is a very singular school, our brothers have had some difficulties tailoring our family to fit into a society that would not regularly accept us.
Since those days, however, Pi Sigma Chi has gained a reputation for being a reliable, trustworthy, and responsible organization, capable of doing anything set before them. Throughout our history, Pi Sigma Chi has always remained true to its roots. Our local status and youth have given us the chance to remain in close contact with all our brothers throughout the years, a feat not commonly boasted about by an ordinary fraternity. Finally, the motto of our brothers concerning potential members has only become stronger. "Quality, not Quantity" has guided the fraternity as a whole to recruit nothing but the best, brightest and most adept men to carry on the legacy of Pi Sigma Chi.
From an academic organization founded to change the opinions of close-minded individuals, Pi Sigma Chi has pushed forward to places its founders had never imagined. This local fraternity has made leaps and bounds, confirming its place at Pratt Institute time and time again. The diversity of its brothers has opened doors, allowing Pi Sigma Chi to become not only a local student group but also a well established business, financial, charitable and social institution. The goals of a "fraternity" have not been lost on our brothers. Above all else, we are a family, one that will go to the ends of the earth to make sure that the welfare and opportunities of its brothers will always be secured.
President: Sebastian Lopez- Wilson(sebastian.lopez.wilson@gmail.com)